Facebook

Pinterest

Save

Print
(function() { document.addEventListener('DOMContentLoaded', function() { var componentMetadata = JSON.parse('\x7b\x22componentName\x22\x3a\x22ActionToolbar_0062db4d-452e-4eba-af2d-b8dce44acc50\x22,\x22deferOptions\x22\x3a\x7b\x22deferComponent\x22\x3afalse,\x22deferType\x22\x3a\x22None\x22,\x22deferId\x22\x3a\x22r0b7c0ec802c74c7aaac2ded7745296cc\x22,\x22deferredContainerId\x22\x3a\x22\x2factionToolbar\x22,\x22deferredContainerView\x22\x3anull\x7d,\x22viewName\x22\x3a\x22ActionToolbar\x22\x7d'); var configuration = {"toolbarSettings":{"id":"0062db4d-452e-4eba-af2d-b8dce44acc50","moreButtonText":"More","lessButtonText":"Less","regAction":"FAVORITE","eSourceCode":14171,"useModalRegistration":true,"namePassedToEvents":"RDPToolbarRAIL","buttons":[{"providerName":"facebook","providerNamePassedToEvents":"Facebook","privacyOptOut":false,"privacyOptOutMessage":"\u003cdiv class=\u0027privacyMessage\u0027\u003e\n\u003ch3\u003eThis feature is not available with your current cookie settings.\u003c/h3\u003e\n\u003cp\u003eYou can \u003ca href=\u0027#\u0027 data-show-preference-center=\u00271\u0027\u003eupdate your privacy settings\u003c/a\u003e to enable this content. Please enable "Functional Cookies" to use this feature.\u003c/p\u003e\n\u003c/div\u003e","shareUrlFormat":"//facebook.com/sharer/sharer.php?u={0}","id":"9e7892b7-5ea2-441b-ab66-55a566402b31","allowedForAnonymousUsers":true,"type":"Social","displayName":"Facebook","namePassedToEvents":"Facebook"},{"providerName":"pinterest","providerNamePassedToEvents":"Pinterest","privacyOptOut":false,"privacyOptOutMessage":"\u003cdiv class=\u0027privacyMessage\u0027\u003e\n\u003ch3\u003eThis feature is not available with your current cookie settings.\u003c/h3\u003e\n\u003cp\u003eYou can \u003ca href=\u0027#\u0027 data-show-preference-center=\u00271\u0027\u003eupdate your privacy settings\u003c/a\u003e to enable this content. Please enable "Functional Cookies" to use this feature.\u003c/p\u003e\n\u003c/div\u003e","shareUrlFormat":"//pinterest.com/pin/create/link/?url={0}","id":"58ba9650-477b-4abe-bb46-1a60912cc27c","allowedForAnonymousUsers":true,"type":"Social","displayName":"Pinterest","namePassedToEvents":"Pinterest"},{"addFavoriteErrorMessage":"Sorry, something went wrong. Please save again.","removeFavoriteErrorMessage":"Error occurred while removing from favorites","regAction":"FAVORITE","eSourceCode":14171,"isCurrentUserAnonymous":true,"isFavoriteItem":false,"id":"a4fff957-6f0a-4e2f-820f-3f2cfbceef64","allowedForAnonymousUsers":false,"type":"Favorite","displayName":"Save","namePassedToEvents":"Favorite"},{"layoutParameter":"p%3d1","id":"9440f541-1622-407b-a529-9cb1f48ddf3a","allowedForAnonymousUsers":true,"type":"Print","displayName":"Print","namePassedToEvents":"Print"}],"dialogSettings":{"cancelButtonText":"Cancel","copyToSenderLabel":"Send a Copy to Myself","emailAddressesLabel":"* Email Address(es)","emailInstructionText":"Separate email addresses with commas","fromText":"From:","privacyPolicyText":"\u003cp\u003e\u0026copy;2021 General Mills, Inc. All Rights Reserved. This information will only be used to send an email to your friend(s) and will not be saved. Please read our \u003ca rel=\u0022noopener noreferrer\u0022 href=\u0022http://www.generalmills.com/company/privacy-policies/privacy-policy-us\u0022 target=\u0022_blank\u0022 shape=\u0022rect\u0022\u003ePrivacy Policy\u003c/a\u003e.\u003c/p\u003e","requiredFieldText":"* Required","sendButtonText":"Send","senderEmailAddressLabel":"* Your Email Address","senderFirstNameLabel":"Your First Name","sendToText":"Send To:"},"controlIds":{"toolbarId":"gmi_actionToolbar_0062db4d-452e-4eba-af2d-b8dce44acc50","moreButtonId":"gmi_actionToolbar_0062db4d-452e-4eba-af2d-b8dce44acc50_moreButton","moreButtonTextId":"gmi_actionToolbar_0062db4d-452e-4eba-af2d-b8dce44acc50_moreButtonText","collapsedButtonsId":"gmi_actionToolbar_0062db4d-452e-4eba-af2d-b8dce44acc50_collapsedButtons","secondaryButtonsId":"gmi_actionToolbar_0062db4d-452e-4eba-af2d-b8dce44acc50_secondaryButtons"}},"contentId":"b3a5d367-6611-4a60-825f-a53934881ea2","isCurrentUserAnonymous":true,"isFavoriteItem":false,"privacyOptOut":false,"shareCounts":{"social.facebook":"1","social.pinterest":"0","favorite":"0","print":"0"},"pageAttributes":{"title":"Roasted Lamb with Yogurt Raita Sauce","description":"Celebrate this Easter with a dish of roasted lamb accompanied by two delicious sauces. This year it\u0027ll be easy to surprise your family with this menu–it\u0027s truly unique in comparison to the traditional glazed ham or roasted pernil. This recipe will make your guests feel like they\u0027ve been transported to a restaurant without ever abandoning the comfort of home. \r\nRaita is a sauce typical of Indian cuisine, used in many preparations and salads as a base or dressing","image":"https://images-gmi-pmc.edge-generalmills.com/db5685b4-2e2a-41ab-96eb-aa165424be84.jpg","url":"http%3a%2f%2fquericavida.com%2frecipes%2froasted-lamb-with-yogurt-raita-sauce%2fb3a5d367-6611-4a60-825f-a53934881ea2","contentType":"Recipe","contentId":"b3a5d367-6611-4a60-825f-a53934881ea2"}}; var moduleName = 'actionToolbar'; var isVueModule = true; GeneralMills.PandoSites.RegisterControlInstance(moduleName, configuration, componentMetadata, isVueModule) }); })();
Roasted Lamb with Yogurt Raita Sauce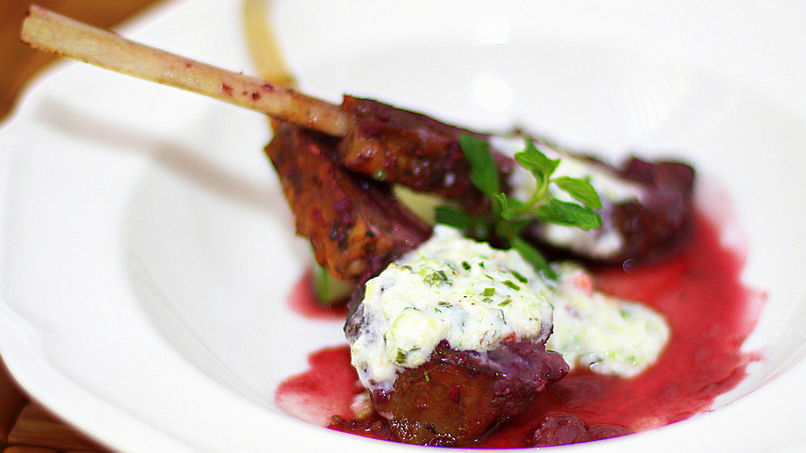 Prep

10

min

Total

55

min

Ingredients

15

Servings

4
Celebrate this Easter with a dish of roasted lamb accompanied by two delicious sauces. This year it'll be easy to surprise your family with this menu–it's truly unique in comparison to the traditional glazed ham or roasted pernil. This recipe will make your guests feel like they've been transported to a restaurant without ever abandoning the comfort of home. Raita is a sauce typical of Indian cuisine, used in many preparations and salads as a base or dressing
(function() { document.addEventListener('DOMContentLoaded', function() { var componentMetadata = JSON.parse('\x7b\x22componentName\x22\x3a\x22RecipeIntro_3f096167-8a59-43c4-961a-84f57d84be42\x22,\x22deferOptions\x22\x3a\x7b\x22deferComponent\x22\x3afalse,\x22deferType\x22\x3a\x22None\x22,\x22deferId\x22\x3a\x22r046e2500a3194a75b498260b03d9ac35\x22,\x22deferredContainerId\x22\x3a\x22\x2fmain\x2frdpIntro\x22,\x22deferredContainerView\x22\x3anull\x7d,\x22viewName\x22\x3a\x22RecipeIntro\x22\x7d'); var configuration = {}; var moduleName = 'expandableTextContainer'; var isVueModule = true; GeneralMills.PandoSites.RegisterControlInstance(moduleName, configuration, componentMetadata, isVueModule) }); })();
Ingredients
2

racks of lamb

2

garlic cloves

1

teaspoon fresh rosemary, chopped

Salt and pepper, to taste

1

cup natural yogurt

2

teaspoons fresh mint, chopped

1

teaspoon red onion, diced

1

small, seedless cucumber, grated

1

seedless pear tomato, chopped

Juice from one-half lemon

1

tablespoon green onion, chopped

1/2

teaspoon ground cumin

1/2

cup red wine

1/2

cup beef broth

1/2

teaspoon cornstarch, optional
Directions
(function() { document.addEventListener('DOMContentLoaded', function() { var componentMetadata = JSON.parse('\x7b\x22componentName\x22\x3a\x22WakeLock_3f096167-8a59-43c4-961a-84f57d84be42\x22,\x22deferOptions\x22\x3a\x7b\x22deferComponent\x22\x3atrue,\x22deferType\x22\x3a\x22OnDemand\x22,\x22deferId\x22\x3a\x22r117f6305e38d46a68a0693e25c44fc7f\x22,\x22deferredContainerId\x22\x3a\x22\x2fmain\x2frdpSteps\x2frdpWakeLock\x22,\x22deferredContainerView\x22\x3a\x22RecipeSteps\x22\x7d,\x22viewName\x22\x3a\x22WakeLock\x22\x7d'); var configuration = {"textAbove":"Prevent your screen from going dark while you cook.","timeoutDurationMs":3600000}; var moduleName = 'wakeLock'; var isVueModule = true; GeneralMills.PandoSites.RegisterControlInstance(moduleName, configuration, componentMetadata, isVueModule) }); })();
1

First season the racks of lamb with salt and pepper and bake at 350° F for 45 minutes. When ready remove from the baking rack and reserve half of the drippings.

2

To prepare the gravy, mix the red wine, beef broth and cornstarch in a small saucepan over medium heat and let reduce as desired.

3

In a separate bowl, combine the yogurt with the remaining vegetables, mint, lemon juice and cumin. Season with salt and pepper as desired.

4

Serve the lamb over a portion of red wine gravy and dress with two tablespoons of yogurt raita. Garnish with a few mint leaves for a fresh presentation.
(function() { document.addEventListener('DOMContentLoaded', function() { var componentMetadata = JSON.parse('\x7b\x22componentName\x22\x3a\x22RecipeSteps_3f096167-8a59-43c4-961a-84f57d84be42\x22,\x22deferOptions\x22\x3a\x7b\x22deferComponent\x22\x3atrue,\x22deferType\x22\x3a\x22OnDemand\x22,\x22deferId\x22\x3a\x22r2832fc78a05a4d56a77d1412180a92c6\x22,\x22deferredContainerId\x22\x3a\x22\x2fmain\x2frdpSteps\x2frdpWakeLock\x22,\x22deferredContainerView\x22\x3a\x22RecipeSteps\x22\x7d,\x22viewName\x22\x3a\x22RecipeSteps\x22\x7d'); var configuration = {"initAreImagesHidden":false,"hideImagesEventName":"HideStepShots","showImagesEventName":"ShowStepShots","hideImagesButtonText":"Hide Images","showImagesButtonText":"Show Images","hideImagesClass":"rdpHideStepImages"}; var moduleName = 'recipeStepShots'; var isVueModule = true; GeneralMills.PandoSites.RegisterControlInstance(moduleName, configuration, componentMetadata, isVueModule) }); })();
More About This Recipe
Celebrate this Easter with a dish of roasted lamb accompanied by two delicious sauces. This year it'll be easy to surprise your family with this menu–it's truly unique in comparison to the traditional glazed ham or roasted pernil. This recipe will make your guests feel like they've been transported to a restaurant without ever abandoning the comfort of home. Raita is a sauce typical of Indian cuisine, used in many preparations and salads as a base or dressing
(function() { document.addEventListener('DOMContentLoaded', function() { var componentMetadata = JSON.parse('\x7b\x22componentName\x22\x3a\x22RecipeTipCategory_3f096167-8a59-43c4-961a-84f57d84be42\x22,\x22deferOptions\x22\x3a\x7b\x22deferComponent\x22\x3atrue,\x22deferType\x22\x3a\x22Simple\x22,\x22deferId\x22\x3a\x22ra0567fd2acc54a1fb8f3e4571a2919aa\x22,\x22deferredContainerId\x22\x3a\x22\x2fmain\x2frdpStories\x22,\x22deferredContainerView\x22\x3a\x22RecipeDetail\x22\x7d,\x22viewName\x22\x3a\x22RecipeTipCategory\x22\x7d'); var configuration = {"initIsExpanded":false,"showDrawerText":"Show","hideDrawerText":"Hide","expandEventName":"","collapseEventName":""}; var moduleName = 'recipeDrawer'; var isVueModule = true; GeneralMills.PandoSites.RegisterControlInstance(moduleName, configuration, componentMetadata, isVueModule) }); })();
© 2021 ®/TM General Mills All Rights Reserved
(function() { document.addEventListener('DOMContentLoaded', function() { var componentMetadata = JSON.parse('\x7b\x22componentName\x22\x3a\x22DoubleClick_209479ee-0a85-47e2-a054-9a45b83d467a\x22,\x22deferOptions\x22\x3a\x7b\x22deferComponent\x22\x3atrue,\x22deferType\x22\x3a\x22OnDemand\x22,\x22deferId\x22\x3a\x22r926131687c0e473481e42fa5ed165e43\x22,\x22deferredContainerId\x22\x3a\x22\x2fmain\x2frdpFeatureAd\x22,\x22deferredContainerView\x22\x3a\x22DoubleClick\x22\x7d,\x22viewName\x22\x3a\x22DoubleClick\x22\x7d'); var configuration = {"adId":"OMP/quericavida/recipes/300x250_top","minPageWidth":"800","maxPageWidth":"9999","defaultMinPageWidth":"1000","defaultMaxPageWidth":"9999","enableLyticsIntegration":true,"lyticsWaitTimeThreshold":5000,"size":"[[300,600],[300,250]]","refreshWhenViewed":false,"adContainerId":"0df85c81-9825-4d27-b67e-1d02507e5738","doubleClickAdContainerId":"a28b3fc1-993b-46f3-ab72-17fcb23eef4a","adCaptionText":"Advertisement","networkCode":"/15704463/","relevantMetadata":["Dinner","Yogurt","Easter"],"privacyOptOut":false}; var moduleName = 'doubleClick'; var isVueModule = true; GeneralMills.PandoSites.RegisterControlInstance(moduleName, configuration, componentMetadata, isVueModule) }); })();
(function() { document.addEventListener('DOMContentLoaded', function() { var componentMetadata = JSON.parse('\x7b\x22componentName\x22\x3a\x22DoubleClick_0cfeeadf-8841-41d0-bcd1-f69250cf0ac4\x22,\x22deferOptions\x22\x3a\x7b\x22deferComponent\x22\x3atrue,\x22deferType\x22\x3a\x22OnDemand\x22,\x22deferId\x22\x3a\x22r7881ddcc655d485e8cad812e1378071f\x22,\x22deferredContainerId\x22\x3a\x22\x2fmain\x2frdpFeatureAd\x22,\x22deferredContainerView\x22\x3a\x22DoubleClick\x22\x7d,\x22viewName\x22\x3a\x22DoubleClick\x22\x7d'); var configuration = {"adId":"OMP/quericavida/recipes/728x90_top","minPageWidth":"800","maxPageWidth":"999","defaultMinPageWidth":"1000","defaultMaxPageWidth":"9999","enableLyticsIntegration":true,"lyticsWaitTimeThreshold":5000,"size":"[[728, 90], [970, 90]]","refreshWhenViewed":false,"adContainerId":"b7ea38d7-393b-48a2-b3f8-f39122ac9b2e","doubleClickAdContainerId":"38a295f6-5676-4e58-9875-a179a3c1b0b1","adCaptionText":"Advertisement","networkCode":"/15704463/","relevantMetadata":["Dinner","Yogurt","Easter"],"privacyOptOut":false}; var moduleName = 'doubleClick'; var isVueModule = true; GeneralMills.PandoSites.RegisterControlInstance(moduleName, configuration, componentMetadata, isVueModule) }); })();
(function() { document.addEventListener('DOMContentLoaded', function() { var componentMetadata = JSON.parse('\x7b\x22componentName\x22\x3a\x22DoubleClick_3b053ad7-affc-4295-9966-00f47602a6b3\x22,\x22deferOptions\x22\x3a\x7b\x22deferComponent\x22\x3atrue,\x22deferType\x22\x3a\x22OnDemand\x22,\x22deferId\x22\x3a\x22r9a57104df66d452892aba9137cc46339\x22,\x22deferredContainerId\x22\x3a\x22\x2fmain\x2frdpFeatureAd\x22,\x22deferredContainerView\x22\x3a\x22DoubleClick\x22\x7d,\x22viewName\x22\x3a\x22DoubleClick\x22\x7d'); var configuration = {"adId":"OMP/m_quericavida/recipes/300x250_top","minPageWidth":"250","maxPageWidth":"799","defaultMinPageWidth":"1000","defaultMaxPageWidth":"9999","enableLyticsIntegration":true,"lyticsWaitTimeThreshold":5000,"size":"[[300,250]]","refreshWhenViewed":false,"adContainerId":"c716b00d-c441-4880-b2fe-0a43e0dd9fdb","doubleClickAdContainerId":"7a313cb8-107c-42ed-ad6e-839beac63982","adCaptionText":"Advertisement","networkCode":"/15704463/","relevantMetadata":["Dinner","Yogurt","Easter"],"privacyOptOut":false}; var moduleName = 'doubleClick'; var isVueModule = true; GeneralMills.PandoSites.RegisterControlInstance(moduleName, configuration, componentMetadata, isVueModule) }); })();
(function() { document.addEventListener('DOMContentLoaded', function() { var componentMetadata = JSON.parse('\x7b\x22componentName\x22\x3a\x22RelatedContent_ab7b59ec-c371-4c32-abe9-ac75197825f6\x22,\x22deferOptions\x22\x3a\x7b\x22deferComponent\x22\x3atrue,\x22deferType\x22\x3a\x22OnDemand\x22,\x22deferId\x22\x3a\x22rff84751bbae84d4ba29814095a28db79\x22,\x22deferredContainerId\x22\x3a\x22\x2fmain\x2frdpRelatedContent2\x22,\x22deferredContainerView\x22\x3a\x22RecipeDetail\x22\x7d,\x22viewName\x22\x3a\x22RelatedContent\x22\x7d'); var configuration = {}; var moduleName = 'relatedContent'; var isVueModule = true; GeneralMills.PandoSites.RegisterControlInstance(moduleName, configuration, componentMetadata, isVueModule) }); })();
(function() { document.addEventListener('DOMContentLoaded', function() { var componentMetadata = JSON.parse('\x7b\x22componentName\x22\x3a\x22RelatedContent_6baa3312-5bf3-4b63-aa78-22158dc96112\x22,\x22deferOptions\x22\x3a\x7b\x22deferComponent\x22\x3atrue,\x22deferType\x22\x3a\x22OnDemand\x22,\x22deferId\x22\x3a\x22rf6ce5bad683c44a29475a1947919f202\x22,\x22deferredContainerId\x22\x3a\x22\x2fmain\x2frdpRelatedContent1\x22,\x22deferredContainerView\x22\x3a\x22RecipeDetail\x22\x7d,\x22viewName\x22\x3a\x22RelatedContent\x22\x7d'); var configuration = {}; var moduleName = 'relatedContent'; var isVueModule = true; GeneralMills.PandoSites.RegisterControlInstance(moduleName, configuration, componentMetadata, isVueModule) }); })();
(function() { document.addEventListener('DOMContentLoaded', function() { var componentMetadata = JSON.parse('\x7b\x22componentName\x22\x3a\x22ThirdPartyScript_b68d5459-0a8b-4d7e-9d4d-8d7702df9bba\x22,\x22deferOptions\x22\x3a\x7b\x22deferComponent\x22\x3atrue,\x22deferType\x22\x3a\x22OnDemand\x22,\x22deferId\x22\x3a\x22rd55ee633b88b414fa3cd4241f88c6ad8\x22,\x22deferredContainerId\x22\x3a\x22\x2fmain\x2frdpZergnet1\x22,\x22deferredContainerView\x22\x3a\x22ThirdPartyScript\x22\x7d,\x22viewName\x22\x3a\x22ThirdPartyScript\x22\x7d'); var configuration = {"placeholderName":"rdpZergnet1","domContent":"\u003cdiv id=\u0022external-content-container-46327\u0022\u003e\u003cdiv id=\u0022zergnet-widget-46327\u0022\u003e\u003c/div\u003e\u003c/div\u003e","scriptContent":"//www.zergnet.com/zerg.js?id=46327"}; var moduleName = 'thirdPartyScript'; var isVueModule = true; GeneralMills.PandoSites.RegisterControlInstance(moduleName, configuration, componentMetadata, isVueModule) }); })();
(function() { document.addEventListener('DOMContentLoaded', function() { var componentMetadata = JSON.parse('\x7b\x22componentName\x22\x3a\x22DoubleClick_17402628-f426-4216-8cb2-527bbb85a1a4\x22,\x22deferOptions\x22\x3a\x7b\x22deferComponent\x22\x3atrue,\x22deferType\x22\x3a\x22OnDemand\x22,\x22deferId\x22\x3a\x22rccb3640ad7d34df3937cfb27d5d0faa0\x22,\x22deferredContainerId\x22\x3a\x22\x2fmain\x2frdpSecondaryAd\x22,\x22deferredContainerView\x22\x3a\x22DoubleClick\x22\x7d,\x22viewName\x22\x3a\x22DoubleClick\x22\x7d'); var configuration = {"adId":"OMP/quericavida/recipes/300x250_bottom","minPageWidth":"800","maxPageWidth":"9999","defaultMinPageWidth":"1000","defaultMaxPageWidth":"9999","enableLyticsIntegration":true,"lyticsWaitTimeThreshold":5000,"size":"[[300,600],[300,250]]","refreshWhenViewed":false,"adContainerId":"6f4afac9-4ffd-403c-8781-b8414dea8a7a","doubleClickAdContainerId":"e8c1ae50-558a-48cf-9fde-ed0dd1b4cf8b","adCaptionText":"Advertisement","networkCode":"/15704463/","relevantMetadata":["Dinner","Yogurt","Easter"],"privacyOptOut":false}; var moduleName = 'doubleClick'; var isVueModule = true; GeneralMills.PandoSites.RegisterControlInstance(moduleName, configuration, componentMetadata, isVueModule) }); })();
(function() { document.addEventListener('DOMContentLoaded', function() { var componentMetadata = JSON.parse('\x7b\x22componentName\x22\x3a\x22DoubleClick_08734287-0e98-4513-a9ae-d4ed8fcc090d\x22,\x22deferOptions\x22\x3a\x7b\x22deferComponent\x22\x3atrue,\x22deferType\x22\x3a\x22OnDemand\x22,\x22deferId\x22\x3a\x22r85d7dc3afdc34791ab45deb85a91f5af\x22,\x22deferredContainerId\x22\x3a\x22\x2fmain\x2frdpSecondaryAd\x22,\x22deferredContainerView\x22\x3a\x22DoubleClick\x22\x7d,\x22viewName\x22\x3a\x22DoubleClick\x22\x7d'); var configuration = {"adId":"OMP/quericavida/recipes/728x90_bottom","minPageWidth":"800","maxPageWidth":"999","defaultMinPageWidth":"1000","defaultMaxPageWidth":"9999","enableLyticsIntegration":true,"lyticsWaitTimeThreshold":5000,"size":"[[728, 90], [970, 90]]","refreshWhenViewed":false,"adContainerId":"61690dc8-3f73-4fb7-b286-4115b5d67cea","doubleClickAdContainerId":"417b6be5-1ccb-4324-b92b-676990035349","adCaptionText":"Advertisement","networkCode":"/15704463/","relevantMetadata":["Dinner","Yogurt","Easter"],"privacyOptOut":false}; var moduleName = 'doubleClick'; var isVueModule = true; GeneralMills.PandoSites.RegisterControlInstance(moduleName, configuration, componentMetadata, isVueModule) }); })();
(function() { document.addEventListener('DOMContentLoaded', function() { var componentMetadata = JSON.parse('\x7b\x22componentName\x22\x3a\x22DoubleClick_147e3d6b-a87a-4ebe-b45b-4661cb73be28\x22,\x22deferOptions\x22\x3a\x7b\x22deferComponent\x22\x3atrue,\x22deferType\x22\x3a\x22OnDemand\x22,\x22deferId\x22\x3a\x22rd349ad9553b74d458cd1fd7892a92461\x22,\x22deferredContainerId\x22\x3a\x22\x2fmain\x2frdpSecondaryAd\x22,\x22deferredContainerView\x22\x3a\x22DoubleClick\x22\x7d,\x22viewName\x22\x3a\x22DoubleClick\x22\x7d'); var configuration = {"adId":"OMP/m_quericavida/recipes/300x250_bottom","minPageWidth":"250","maxPageWidth":"799","defaultMinPageWidth":"1000","defaultMaxPageWidth":"9999","enableLyticsIntegration":true,"lyticsWaitTimeThreshold":5000,"size":"[[300,250]]","refreshWhenViewed":false,"adContainerId":"5482049e-981a-452d-9d6a-8954e5a8634d","doubleClickAdContainerId":"32b282bd-090c-4066-9556-d38ee3958132","adCaptionText":"Advertisement","networkCode":"/15704463/","relevantMetadata":["Dinner","Yogurt","Easter"],"privacyOptOut":false}; var moduleName = 'doubleClick'; var isVueModule = true; GeneralMills.PandoSites.RegisterControlInstance(moduleName, configuration, componentMetadata, isVueModule) }); })();
(function() { document.addEventListener('DOMContentLoaded', function() { var componentMetadata = JSON.parse('\x7b\x22componentName\x22\x3a\x22DoubleClick_a64e89d5-b3d5-45ea-8f7e-3efb4a0c90ce\x22,\x22deferOptions\x22\x3a\x7b\x22deferComponent\x22\x3atrue,\x22deferType\x22\x3a\x22OnDemand\x22,\x22deferId\x22\x3a\x22r6677e8421e42443eb8c27cedadfdca2a\x22,\x22deferredContainerId\x22\x3a\x22\x2fmain\x2frdpTernaryAd\x22,\x22deferredContainerView\x22\x3a\x22DoubleClick\x22\x7d,\x22viewName\x22\x3a\x22DoubleClick\x22\x7d'); var configuration = {"adId":"OMP/quericavida/recipes/300x250_bottom","minPageWidth":"800","maxPageWidth":"9999","defaultMinPageWidth":"1000","defaultMaxPageWidth":"9999","enableLyticsIntegration":true,"lyticsWaitTimeThreshold":5000,"size":"[[300,600],[300,250]]","refreshWhenViewed":false,"adContainerId":"5abef6b3-041a-406c-860f-9a0ac06e63e6","doubleClickAdContainerId":"205d975e-17b8-4fba-aae2-5852314d241e","adCaptionText":"Advertisement","networkCode":"/15704463/","relevantMetadata":["Dinner","Yogurt","Easter"],"privacyOptOut":false}; var moduleName = 'doubleClick'; var isVueModule = true; GeneralMills.PandoSites.RegisterControlInstance(moduleName, configuration, componentMetadata, isVueModule) }); })();
(function() { document.addEventListener('DOMContentLoaded', function() { var componentMetadata = JSON.parse('\x7b\x22componentName\x22\x3a\x22DoubleClick_a64e89d5-b3d5-45ea-8f7e-3efb4a0c90ce\x22,\x22deferOptions\x22\x3a\x7b\x22deferComponent\x22\x3atrue,\x22deferType\x22\x3a\x22OnDemand\x22,\x22deferId\x22\x3a\x22r4d6f147b5a0c499d89a145c0a5b7b184\x22,\x22deferredContainerId\x22\x3a\x22\x2fmain\x2frdpTernaryAd\x22,\x22deferredContainerView\x22\x3a\x22DoubleClick\x22\x7d,\x22viewName\x22\x3a\x22DoubleClick\x22\x7d'); var configuration = {"adId":"OMP/quericavida/recipes/300x250_bottom","minPageWidth":"800","maxPageWidth":"9999","defaultMinPageWidth":"1000","defaultMaxPageWidth":"9999","enableLyticsIntegration":true,"lyticsWaitTimeThreshold":5000,"size":"[[300,600],[300,250]]","refreshWhenViewed":false,"adContainerId":"849659d6-a3e0-45d8-9eb9-a6103c1b69c0","doubleClickAdContainerId":"62f49f73-1456-45a7-bf56-248e22e2eacf","adCaptionText":"Advertisement","networkCode":"/15704463/","relevantMetadata":["Dinner","Yogurt","Easter"],"privacyOptOut":false}; var moduleName = 'doubleClick'; var isVueModule = true; GeneralMills.PandoSites.RegisterControlInstance(moduleName, configuration, componentMetadata, isVueModule) }); })();
(function() { document.addEventListener('DOMContentLoaded', function() { var componentMetadata = JSON.parse('\x7b\x22componentName\x22\x3a\x22ThirdPartyScript_afac409e-89cc-48fc-8613-81c0dcf191d7\x22,\x22deferOptions\x22\x3a\x7b\x22deferComponent\x22\x3atrue,\x22deferType\x22\x3a\x22OnDemand\x22,\x22deferId\x22\x3a\x22r25e5e926e6214878834ad64ddc8f0ba9\x22,\x22deferredContainerId\x22\x3a\x22\x2fmain\x2frdpZergnet2\x22,\x22deferredContainerView\x22\x3a\x22ThirdPartyScript\x22\x7d,\x22viewName\x22\x3a\x22ThirdPartyScript\x22\x7d'); var configuration = {"placeholderName":"rdpZergnet2","domContent":"\u003cdiv id=\u0022external-content-container-46331\u0022\u003e\u003cdiv id=\u0022zergnet-widget-46331\u0022\u003e\u003c/div\u003e\u003c/div\u003e","scriptContent":"//www.zergnet.com/zerg.js?id=46331"}; var moduleName = 'thirdPartyScript'; var isVueModule = true; GeneralMills.PandoSites.RegisterControlInstance(moduleName, configuration, componentMetadata, isVueModule) }); })();